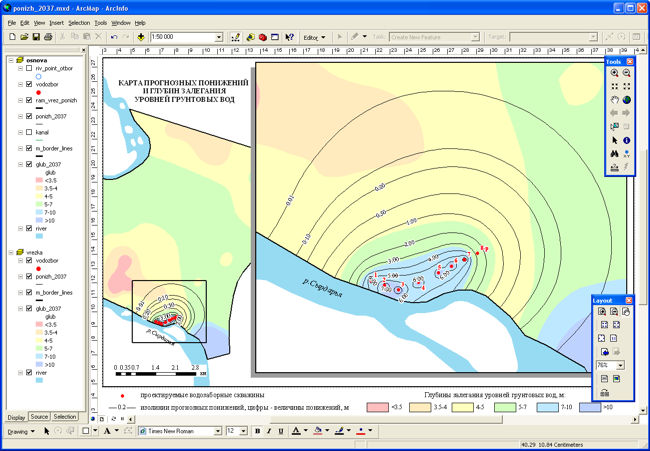 As the most universal geoinformational system is the ArcGIS 9.3 system, representing the group of programming products of the company ESRI (USA) – one of the leaders of the world's market of geoinformational systems. ArcGIS 9.3 is used for the solution of problems in various fields of activity – in land's cadastre and in land management, in oil and gas, ecology, water resources, mineral resources utilization, remote sensing, geodesy, map preparation geography, agriculture and so on.

It possesses with large functional possibilities both in case of original data preparation for systemic creation of variously-scaled models of hydrogeological objects, and also formulation and analysis of modeling results.

ArcGIS 9.3 can be used for execution of spaced analysis, based on data in raster formation and in the form of triangular grid. There are three-dimensional visualizations and representations of data changing in time, and also visualizations and analysis of data, collectable in real temporal regime. It allows to execute the complex statistical analysis of data, presented in raster format, and to convert the data from different GIS-formats, to vectoraise automatically the material scanned.

Effective storing and use of various types of data, the possibility to define the rules of behaviour of space of interconnected geophysical objects and objective classes, and also topology rules, and the function of geobases editing by many users makes ArcGIS 9.3 as indispensable during work with large volumes of various information including that which is unstructured. Now ArcGIS 10 is accessible (http://www.esri.com).